University of South Wales: Aviation Educators Engineer New Route to Aero Degrees at Dubai Airshow
PONTYPRIDD, Wales, November 13, 2017/PRNewswire/ –The University of South Wales (USW) and Fujairah Aviation Academy (FujAA) have announced that they will offer students a new route to combined engineering degrees and industry accreditation in aircraft maintenance.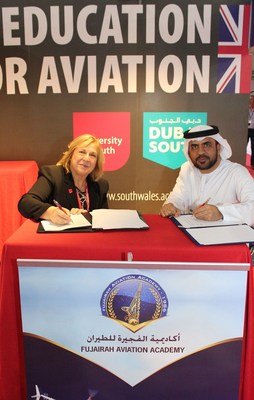 (Photo: http://mma.prnewswire.com/media/602509/Julie_Lydon_Captain_Yahya_Alboloushi.jpg )
The signing of the agreement at the 2017 Dubai Airshow opens the gate for FujAA students to enhance their studies at the USW's new presence at Dubai South, with the first courses beginning in September 2018.
The signing of the partnership agreement opens the door to FujAA students to progress to British higher education Bachelor and Masters Degrees in Aircraft Maintenance Engineering.
Professor Julie Lydon, Vice-Chancellor and Chief Executive of USW, said: "Today's signature puts the seal on an important partnership between one of the UK's leading engineering universities and a highly-respected aviation academy in UAE.
"We'll be working together to offer students from both UAE and the wider region a unique route to make their career take off, blending the academic prestige of a UK honours degree accredited by the UAE Knowledge and Human Development Agency with the EASA-standard industry recognition that we're known for."
Captain Yahya Alboloushi, General Manager of the Fujairah Aviation Academy, said: "We are delighted to reach this milestone agreement with the University of South Wales, putting our hands together with a prestigious deliverer of higher education that is recognised by the international aerospace industry. It will be a real benefit for our students."
Source: University of South Wales