GHS Appears at CAEXPO, with Full-media Retail Platform Favored by ASEAN Exhibitors
BEIJING, Sept. 11, 2017 /PRNewswire/ — The 12th China ASEAN Exposition was opened in Nanning, Guangxi. CAEXPO TV business partner GHS channel once again participated in the CAEXPO following its first appearance, and it officially launched a brand promotion. Nearly 100 exhibitors from China and ASEAN involving food, home furnishings, kitchens, beauty and makeup, etc. took part in the brand promotion, hoping to further open the Chinese market.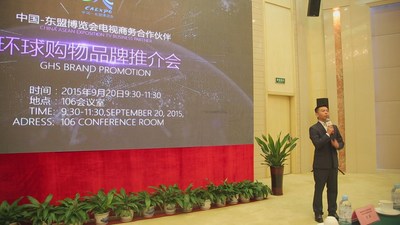 GHS full-media retail platform wins favor from ASEAN exhibitors
GHS not only owns a standard TV shopping channel covering the whole country (China), but also runs an online mall, mobile shopping app and other new media, and it selects high-quality commodities throughout the world for consumers.
"GHS and CAEXPO have maintained a good relationship. This time, as CAEXPO's TV business partner, we also hope to use our full-media retail platform to introduce more ASEAN brands to domestic consumers," said Deng Jiangtao, Director of GHS Marketing Department.
In China's huge consumer market, the TV shopping channel is becoming the choice of many overseas brands to enter the Chinese market due to its strong market potential. "We are a foreign brand and not very famous in China, so we yearn for a platform like GHS which can both promote and sell products to help us enter the Chinese market," said Zhang Xin, an exhibitor from Malaysia.
GHS brand promotion attracts nearly 100 ASEAN exhibitors
To ensure that overseas enterprises successfully export commodities to the Chinese market, GHS specifically developed a one-stop investment-inviting solution for ASEAN exhibitors. "We have a professional media company which can help these overseas manufacturers to complete the localization strategy of brand packaging, and our trade company can also help them to expand sales channels," said Deng Jiangtao, Director of GHS Marketing Department
Prior to this, Xu Ningning, Executive President of China-ASEAN Business Council affirmed in an interview the role of full-media shopping enterprises like GHS at CAEXPO.
GHS also held an overseas investment-inviting conference in Seoul, Korea, and set up a cross-border trade platform in Korea – GHS Office in Korea, which is responsible for the development and introduction of Korean local commodities.
Photo – https://mma.prnewswire.com/media/553058/Introduction_Of_Company.jpg