SHANGHAI, Feb. 3, 2017 /PRNewswire/ — With a prime focus on "providing comprehensive solutions for the building and decoration industry", The International Building & Construction Trade Fair 2017 ("CBD-IBCTF (Shanghai)") will return to the National Exhibition and Convention Center (Shanghai) from March 22 to 25, 2017 and is expected to receive more than 30,000 visitors.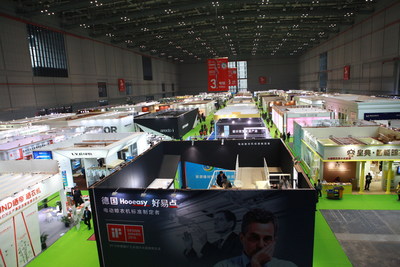 Photo – http://mma.prnewswire.com/media/464594/CBD_IBCTF_Shanghai_Returns.jpg
CBD-IBCTF (Shanghai) 2017 will be exhibiting products and solutions for the entire home building materials industry chain, crafting a comprehensive system for premium whole-home furnishing customization with environmental-friendly materials.
The fair will feature Custom Home Furnishing, Aluminum Doors & Windows, Doors & Windows Systems and Wall Decorations, demonstrating products from the emerging fields of Suspended Ceiling/Wall Integration, Wooden Doors and Whole-wood Decoration, Staircases, Smart Homes and Smart Clothes Racks.
The integrated exhibition area for custom furnishing will gather top companies in custom furniture, wooden door/whole-wood furnishing and suspended ceiling/wall integration, including Suofeiya, Holike, Healthcare Co., Ltd, MTMT, Cimen, Youpon, Mellkit and Aupu.
Renowned companies such as Technoform Bautec, Paiya, Phonpa and Hennissy will bring their latest products to showcase, including whole-house door and window solutions.
A leader in the field of smart homes, Ming-men will bring its latest noiseless door locks, smart locks and whole-house hardware product sets to the fair.
Environmental-friendly Materials
Leading international companies specializing in environmentally-friendly building materials including diatom ooze, art paint, integrated walls and fabrics will also present their newest products at the fair.
Mr. Li, president of the organizing committee, noted that the upcoming Shanghai fair will continue to build from CBD Fair (Guangzhou) to expand the premium custom whole-home remodeling platform for industrial members.
"With 20 years of experience and integrated resources, we strive to build the latest and most comprehensive platform for exhibition, communication and exchange," Li said. "This year's fair will also host almost 40 conferences and discussions on topics of architecture and interior design, smart homes and trade matching to better connect the exhibitors and visitors."
For more information, please visit: http://shfair-cbd.no4e.com/index.php?l=en
About CBD-IBCTF (Shanghai)
CBD-IBCTF (Shanghai) is hosted by the China Foreign Trade Guangzhou Exhibition General Corp. and the Worldwide Exhibition Service Co., Ltd. The Fair debuted in 2015 at the National Exhibition and Convention Center in (Shanghai) and has attracted 60,000 exhibitors and buyers from around the world.